Our gift cards now available
Iceland's Longest Zipline
Free as a bird,
fast as a falcon
Are you ready to try the longest, fastest zipline in Iceland? Mega Zipline lets visitors fly for a kilometre from atop the Kambar plateau overlooking the town of Hveragerði to the trailhead of the Reykjadalur hot spring valley. Flyers soar over the stunning Svartagljúfur gorge, with its numerous waterfalls and spectacular views — a natural gem to experience from a breathtaking vantage point.
Mega Zipline operates two parallel lines, allowing pairs to experience the flight together. Choose the seated harness to feel as Free as a Bird, or soar headfirst along the 1 km line to fly as Fast as a Falcon — the fastest falcons can reach speeds over 100 km/hr!
If you're feeling more like a seabird, try Mega Zipline's "Free-fall" drop of 13 metres like a puffin plunging from its cliffside nest toward the sea below.
Feel the rush of Mega Zipline, the most exciting activity in Iceland.
40 minutes
(From check-in to check-out)
SUMMER
Open daily from
10 AM to 5 PM
Thrilling ride
stunning nature
Conventional ride

Free as a bird
Soaring Free as a Bird (seated in custom-made harnesses) is the most popular way of riding the Mega Zipline. Fly at a more relaxed speed (where you can partially control the speed), making it easier to take in the scenery along the way and enjoy the flight with your travel buddy on the other line.
Book your flight now!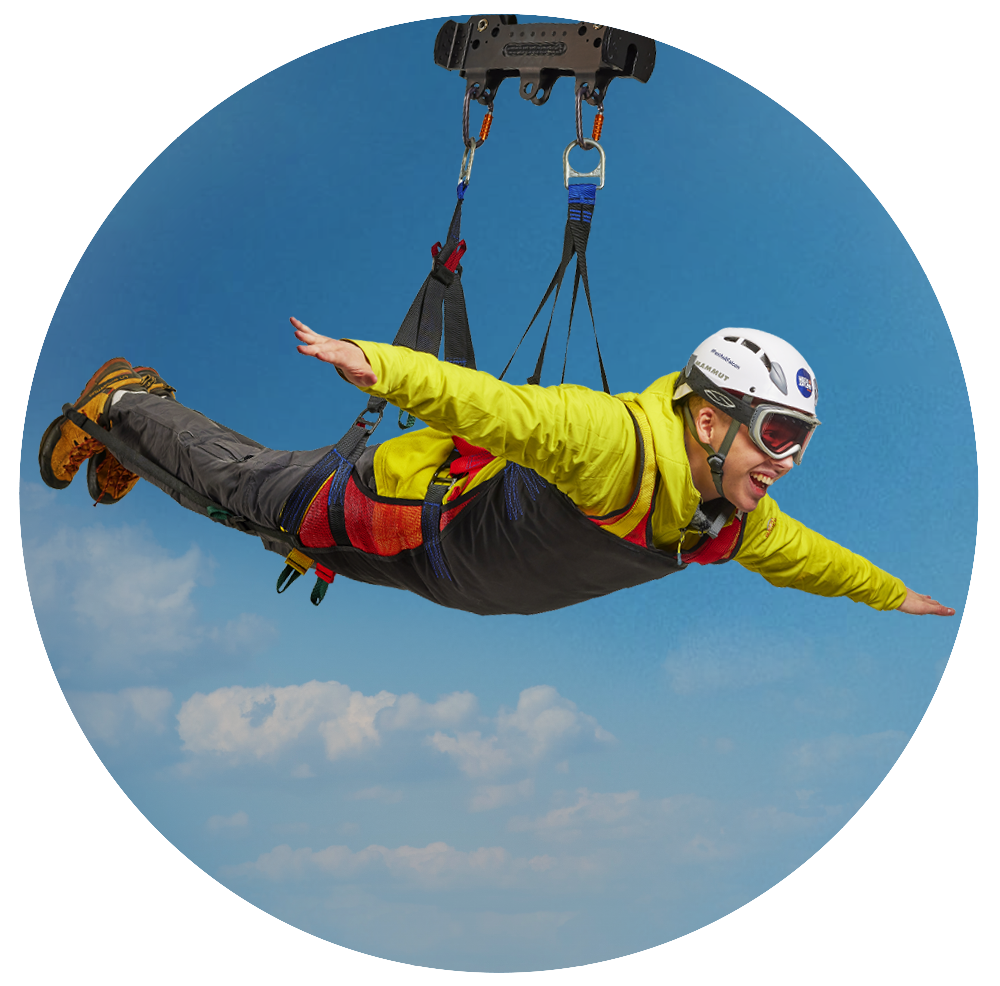 Superman ride

Fast as a falcon
Flying Fast as a Falcon (lying front-down on a custom-made harness) is how the most daring zoom down the Mega Zipline, soaring headfirst over the gorge. Some "falcons" have reached up to 120 km/hr speeds, with the more competitive flyers racing their travel buddy on the side-by-side lines. Are you brave enough?
Book your flight now!
Freefall Line

Plunge like a puffin
Get the adrenaline rushing through your veins before your flight with a turn on Mega Zipline's freefall line. Like a puffin plunging from its cliffside nest into the sea below, you'll freefall 15 metres from Mega Zipline's tower, secured to a freefall device that will slow your fall and break in the final metres.
Book your freefall now!
Adult
(13+)
Children
(9-12)
Free fall
Combo
Video
Footage

Conventional ride - Free as a bird

ISK 7,900

ISK 5,900

ISK 2,000

ISK 2,900

Superman ride - Fast as a Falcon

ISK 9,900

ISK 7,900

ISK 2,000

ISK 2,900

Free fall - Plunge as a puffin

ISK 2,500

ISK 2,500

-

-
Conventional Ride with transfer from Reykjavik
This is our Conventional ride with transfer from (and to) Reykjavik. Experience the thrill of soaring through the breathtaking Icelandic landscape in our traditional ride, while seated in a specially designed, comfortable harness that heightens your senses.
Double Thrill: Wings of the Bird, Flight of the Falcon
Experience the ultimate adrenaline-fueled adventure with our Combo Tour at Mega Zipline Iceland! Embark on a thrilling journey that combines the excitement of the Conventional Tour, "The Bird," and the exhilarating Superman Tour, known as "The Falcon."
Lava & Air Adventure Combo
The Lava Tunnel and Mega Zipline Iceland Combo Tour is an unforgettable experience for adventure seekers. These two popular activities are located close to each other. This tour does not include transfer and is therefore for self driving passengers only.
You want to give the best gift of them all? It is possible to buy gift cards for the Mega Zipline experience. An amazing gift for adventurous people of all ages.
There is are no gifts better than experiences and memories that last a lifetime.
Come and fly with us…
Safety is our priority at Mega Zipline. We use state-of-the-art equipment developed by ziplining pioneers in Canada, outfitting guests with custom harnesses secured to a professional trolly. The distance between the trolly and the harness ensures that fingers and hair cannot be snared in the mechanism. The trolleys and the harness have tribble attachments, making it impossible to separate from each other! One of the advantages to this system is that guests don´t "spin" around during the flight, but rather face forward with a comfortable "handrail" to hand on to if needed (for the conventional rides). The cables are specially manufactured in Italy and engineered to withstand a far greater load than could ever reasonably be imposed on them – in fact, they can hold the weight of four elephants, which is absurd since nobody makes zipline harnesses in their size. All components are certified and regularly inspected by experts.
All Mega Zipline employees are specially trained in the safe operation of the zipline and all the equipment used, including going over written protocols daily In addition, all staff have received First Aid training. All guests are securely fastened into either the seated or prone harness and outfitted with a helmet. The "falcons" also receive goggles for their flight.
We expect that MegaZipline will be a huge attraction in Hveragerðisbæjar. This will be something spectacular, more than 1 km (3,000 ft.), flying over canyons, rivers and waterfalls. This will be fun!
-Aldís Hafsteinsdóttir, former mayor of Hveragerði