Our gift cards now available
Winter opening Fri. - Sun.
Iceland's Longest Zipline
Free as a bird,
fast as a falcon
Are you ready to try the longest, fastest zipline in Iceland? Mega Zipline lets visitors fly for a kilometre from atop the Kambar plateau overlooking the town of Hveragerði to the trailhead of the Reykjadalur hot spring valley. Flyers soar over the stunning Svartagljúfur gorge, with its numerous waterfalls and spectacular views — a natural gem to experience from a breathtaking vantage point.
Mega Zipline operates two parallel lines, allowing pairs to experience the flight together. Choose the seated harness to feel as Free as a Bird, or soar headfirst along the 1 km line to fly as Fast as a Falcon — the fastest falcons can reach speeds over 100 km/hr!
If you're feeling more like a seabird, try Mega Zipline's "Free-fall" drop of 13 metres like a puffin plunging from its cliffside nest toward the sea below.
Feel the rush of Mega Zipline, the most exciting activity in Iceland.
50-60 minutes
(From check-in to check-out)
SUMMER
Open daily from
10 AM to 5 PM
Thrilling ride
stunning nature
Conventional ride

Free as a bird
Soaring Free as a Bird (seated in custom-made harnesses) is the most popular way of riding the Mega Zipline. Fly at a more relaxed speed (where you can partially control the speed), making it easier to take in the scenery along the way and enjoy the flight with your travel buddy on the other line.
Book your flight now!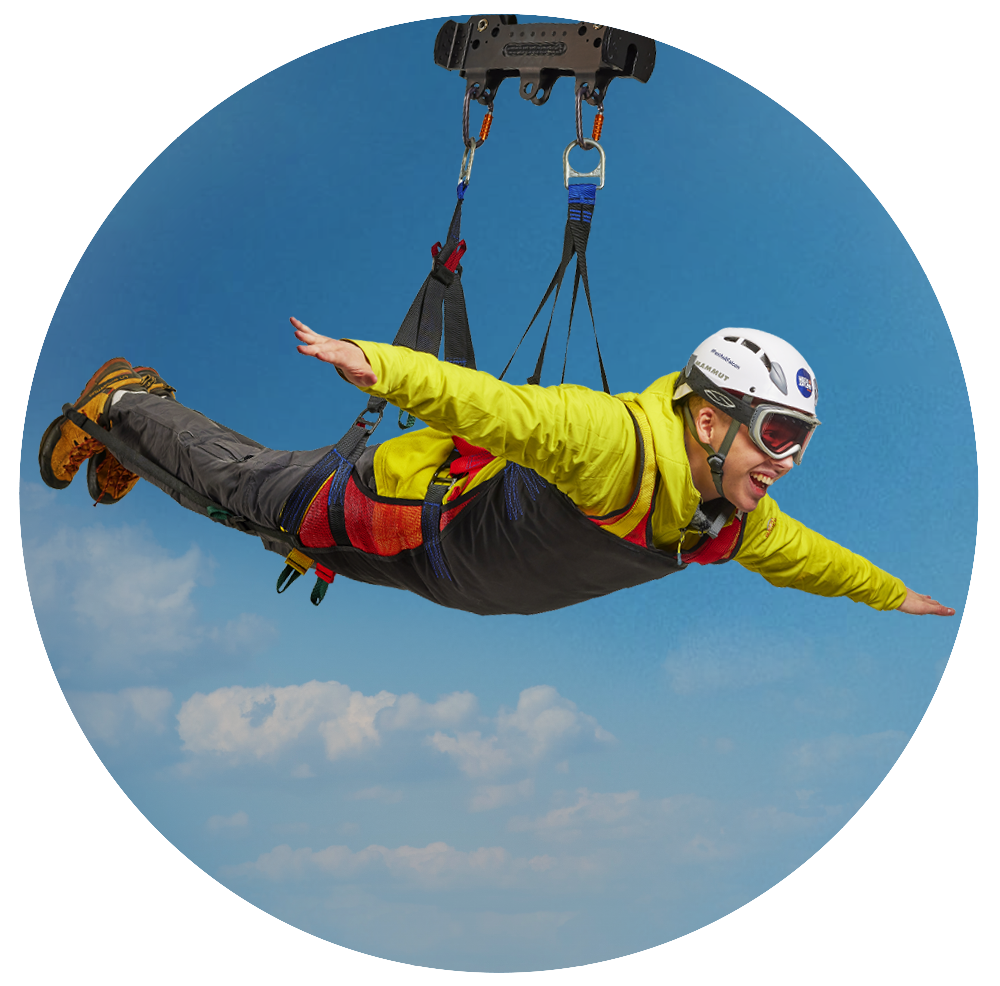 Superman ride

Fast as a falcon
Flying Fast as a Falcon (lying front-down on a custom-made harness) is how the most daring zoom down the Mega Zipline, soaring headfirst over the gorge. Some "falcons" have reached up to 120 km/hr speeds, with the more competitive flyers racing their travel buddy on the side-by-side lines. Are you brave enough?
Book your flight now!
Freefall Line

Plunge like a puffin
Get the adrenaline rushing through your veins before your flight with a turn on Mega Zipline's freefall line. Like a puffin plunging from its cliffside nest into the sea below, you'll freefall 15 metres from Mega Zipline's tower, secured to a freefall device that will slow your fall and break in the final metres.
Book your freefall now!
*Valid to 31st of August 2024
Adult
(13+)
Children
(9-12)
Free fall
Combo
Video
Footage

Conventional ride - Free as a bird

ISK 8,900

ISK 6,900

ISK 3,000

ISK 2,900

Superman ride - Fast as a Falcon

ISK 12,900

ISK 10,900

-

ISK 2,900

Free fall - Plunge as a Puffin

ISK 3,500

ISK 3,500

-

-
Conventional Ride with transfer from Reykjavik
This is our Conventional ride with transfer from (and to) Reykjavik. Experience the thrill of soaring through the breathtaking Icelandic landscape in our traditional ride, while seated in a specially designed, comfortable harness that heightens your senses.  The transfer is operated by Reykjavik Excursions.
Double Thrill: Wings of the Bird, Flight of the Falcon
Experience the ultimate adrenaline-fueled adventure with our Combo Tour at Mega Zipline Iceland! Embark on a thrilling journey that combines the excitement of the Conventional Tour, "The Bird," and the exhilarating Superman Tour, known as "The Falcon."
Lava & Air Adventure Combo
The Lava Tunnel and Mega Zipline Iceland Combo Tour is an unforgettable experience for adventure seekers. These two popular activities are located close to each other. This tour does not include transfer and is therefore for self driving passengers only.
You want to give the best gift of them all? It is possible to buy gift cards for the Mega Zipline experience. An amazing gift for adventurous people of all ages.
There is are no gifts better than experiences and memories that last a lifetime.
Come and fly with us…
Safety is our priority at Mega Zipline. We use state-of-the-art equipment developed by ziplining pioneers in Canada, outfitting guests with custom harnesses secured to a professional trolly. The distance between the trolly and the harness ensures that fingers and hair cannot be snared in the mechanism. The trolleys and the harness have tribble attachments, making it impossible to separate from each other! One of the advantages to this system is that guests don´t "spin" around during the flight, but rather face forward with a comfortable "handrail" to hand on to if needed (for the conventional rides). The cables are specially manufactured in Italy and engineered to withstand a far greater load than could ever reasonably be imposed on them – in fact, they can hold the weight of four elephants, which is absurd since nobody makes zipline harnesses in their size. All components are certified and regularly inspected by experts.
All Mega Zipline employees are specially trained in the safe operation of the zipline and all the equipment used, including going over written protocols daily In addition, all staff have received First Aid training. All guests are securely fastened into either the seated or prone harness and outfitted with a helmet. The "falcons" also receive goggles for their flight.
We expect that MegaZipline will be a huge attraction in Hveragerðisbæjar. This will be something spectacular, more than 1 km (3,000 ft.), flying over canyons, rivers and waterfalls. This will be fun!
-Aldís Hafsteinsdóttir, former mayor of Hveragerði
Such fun Really fun activity to do. The scenery was incredible as you zip line down a waterfall. The walk up had some amazing views. Was a bit scary when the gate first opened at the top but was fine once I got going. Went with my partner on the other line so we could do it as a couple.
Great experience! Beautiful view! Great experience! Part of our group will do the falcon next time!! But for the 'oldies' the fly like a bird was a great experience already!
Awesome time with Mega Zip My fiancé and I are from the United States and visited the Mega Zipline on August 15th. We had an amazing time flying over the beautiful canyons, admiring the waterfalls from above. While we are both quite adventurous, I have an occasional fear of heights. The staff was incredibly friendly and professional, putting our minds perfectly at ease and making the best experience for us possible. I can not sing their praises enough, we had such an amazing time. Highly recommended for anybody visiting the Selfoss/Reykjavik area that wants to see the landscape from a different perspective
Great experience, beautiful landscape Very fun experience! The view is gorgeous and the zipline is very fun. Staff is helpful and well informed. I recommend purchasing the video! There is a car that drives you partially up the hill, but you have to walk the rest yourself so be prepared for that. All in all I would recommend!
Great ride, great staff, poor website The ride is amazing, plus we felt well looked after by the friendly and reassuring staff. The website to view/purchase the videos is not so good as there is no way to know which video is the one you want.
Just Opened and Getting it RIGHT The one thing I would suggest would be to check your e-mail. They were very communicative but only via e-mail. That's it. Out of the way. Keep in mind they opened last month! It's a great time! And the staff were so supportive. We accidentally double-booked. They cleared it up. There were high winds the day of and it was closed for our booking at 1PM. They expected (and got) calmer weather later in the day. It did not look good. They offered to move our reservation back to the last run of the day at 5PM. On the other hand, they don't play around with safety -- they monitor the weather conditions and the very fact that it was initially cancelled was actually a good thing. We hiked (same parking lot) to the Geothermal River trail (2mi each way) and ended up getting back a little after 5PM. The bus had already gone up the hill. Great hike. Our fault. Certainly we'd missed out. I staggered into the office and asked if there was any chance we could still go. They accommodated us, drove us up the hill on the bus after the last bus. The tower is no joke, three stories tall looking down on 1km of line. It's intimidating. One of our party had better sense and the staff was completely accommodating, even bringing them back down the hill on the ATV as we were the last run. A second in our party, our youngest, was really nervous as well. The staff was great with them and talked them through every step of the way. Her fears melted away and she leapt out, down the line ahead of me. She was so proud of herself, and all of us of her. They did not have to do half of what they did. They were very flexible. They were very accommodating. They made the ride a highlight of a trip with a lot of highlights. I don't do a lot of reviews. But our youngest - she insisted we log in because she 'wants to help them out' after they were so good to her.
So much fun! This was a birthday gift to my 15 years old godson. We went together and this was the best birthday gift he has ever had 👏 I/we had so much fun 👌🏼 staff very friendly and the ride was amazing!
Amazing fly over the gorge Staff is very friendly and professional, everything went smooth and on time. View is extraordinary. Definately one of the best minute of my life 👌
Iceland Superman! This is as MUST DO experience in Iceland. Make sure you complete and send your disclaimer form back before you go! The process was very easy to check in, get your harn as fitted then get dropped off half way in the van. The walk from the van to the platform is a moderate walk and I'd recommend good walking shoes and a moderate level of fitness but it is very much worth the effort. My wife and I were carefully prepared and connected to the track and safety harnesses then the gate opened and from there it was WOW!!!! Incredible superman flight over the waterfall and valley and such great fun. Definitely recommend this experience. 😃